Welcome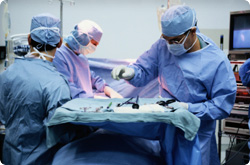 The Eastern Association for the Surgery of Trauma is pleased to be partnering with CECentral to offer online continuing medical education to the Trauma and Acute Care Surgery Medical Community. EAST collaborates with the Pediatric Trauma Society on the development of the Pediatric Trauma educational activities that are available through the EAST Education Center.
The EAST Online Education Center was initially supported by the EAST Foundation through an unrestricted grant from Edwards Lifesciences.
Instructions for obtaining Continuing Medical Education (CME) from the EAST Education Center at CECentral
The EAST Education Center is a convenient way to earn approved CME. The EAST Education Center has been set up so that you may choose the webcasts you would like to view. You can view one or all; you can earn CME for each webcast completed. Follow the steps below to start earning CME.
After you select a webcast, complete the pretest (if applicable) before the CME activity is launched.
If you do not already have an account with CECentral, you will be prompted to set up an account. It only takes a minute to set up your account with CECentral. †
At the conclusion of the CME activity you will be required to complete a posttest and evaluation to obtain your CME certificate.
As of December 2012, new activities launched on the EAST Education Center will require a fee to request continuing education credit for non-EAST members. After clicking Get Credit, you will be prompted to pay your fee (non-members) or enter a coupon code †† (EAST members only).
Please contact us if you have any technical issues while using CECentral.
EAST is a not for profit 501(c)(3) organization established to furnish leadership and foster advances in the care of the injured patient. EAST affords a forum for exchange of knowledge pertaining to the care and rehabilitation of the injured patient. Visit the EAST Website at www.east.org for additional information.
Online Education
These activities provide Category I CME and self-assessment credits toward Part 2 of the
ABS
MOC Program.