Registration for this event is currently not available. For more information, please

email support

or call the Special Services number listed below.
Special Services
If you have questions, require any special arrangements to attend or would like more information, please contact Marissa Schuh at 859-218-1034 or marissa.schuh@uky.edu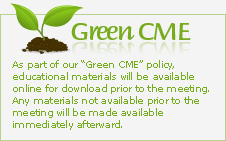 Print Full Agenda
Agenda
Times, topics and speakers subject to change.
| Time | Topic | Faculty |
| --- | --- | --- |
| 8:30 AM - 8:45 AM | Welcome | |
| 8:45 AM - 9:30 AM | General Session I Assessment and Treatment of Solid Tumors Keynote: Role of ETCTN in fostering cancer research in Appalachian Kentucky: Challenges and opportunities | Charles Kunos |
| 9:30 AM - 10:15 AM | General Session I Assessment And Treatment Of Solid Tumors: Precision Treatment of Neuroendocrine Tumors | Lowell Anthony |
| 10:15 AM - 10:30 AM | General Session I Assessment and Treatment of Solid Tumors Overview and Discussion | |
| 10:30 AM - 11:00 AM | Break | |
| 11:00 AM - 11:45 AM | Workshop I Hot Topics: Gene Expression Prognostic Assays in Breast Cancer and Markers of Intratumoral Heterogeneity | Rachel Stewart |
| 11:00 AM - 11:45 AM | Workshop I: Implementing a Germline Precision Medicine Program | Brooke Phillips |
| 11:00 AM - 11:45 AM | Workshop I: New Therapies for AML, Targeting FLT3 and IDH Mutations | Reshma Ramlal |
| 11:00 AM - 11:45 AM | Workshop I: Novel Surgical Strategies in GI Malignancies | Michael Cavnar |
| 11:45 AM - 1:15 PM | Lunch with Ongoing Clinical Trials Poster Session | |
| 1:15 PM - 2:00 PM | Workshop II Panel: Inherited Cancer Syndromes | Rachel Miller |
| 1:15 PM - 2:00 PM | Workshop II: Implementing a CAR T-Cell Therapeutic Program | Gerhard Hildebrandt |
| 1:15 PM - 2:00 PM | Workshop II: Managing Combination Immunotherapies | John Villano |
| 1:15 PM - 2:00 PM | Workshop II: Novel Advances in Next Generation Sequencing | Shulin Zhang |
| 1:15 PM - 2:00 PM | Workshop II: Role of NGS testing in Precision Management of Hematological Malignancies | |
| 2:00 PM - 2:30 PM | Break | |
| 2:30 PM - 3:00 PM | General Session II Treatment Advances in Hematological Malignancies: Treatment Advances in CAR T-cells | Hayder Saeed |
| 3:00 PM - 3:45 PM | General Session II Treatment Advances in Hematological Malignancies Keynote: The Future is Finally Here Targeted Therapy in the Treatment of Acute Myeloid Leukemia | Eytan Stein |
| 3:45 PM - 4:00 PM | General Session II Treatment Advances in Hematological Malignancies Overview and Discussion | Firas Badin |
| 4:00 PM - 4:30 PM | Wrap up | |