Course Description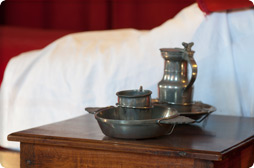 The COMFORT modules are offered to assist health care professionals in their practice of narrative health care and patient-centered communication in end-of-life care.
Curriculum
The 7 principles of COMFORT are: Communication; Orientation and Opportunity; Mindful Presence; Family; Openings; Relating, and Team. At present, four of these modules are available for CE credit online. The online modules consist of didactic presentations, roundtable discussions, interspersed patient videos and polling questions. At the conclusion of each module, you will be asked to complete a posttest and evaluation of the module prior to receiving your certificate.
Research Participation
These modules are part of a study on communication curriculum in on-line educational formats. Before and after each module you will be asked less than 10 questions about your prior experiences, application of module information, and program evaluation questions. To the best of our knowledge, the things you will be doing have no more risk of harm than you would experience in everyday life.
Data are confidential, but not anonymous. That is, data will be aggregated for statistical analysis and subject identity will not be revealed in the research use of the responses. However, in order to provide CE credit, participant names will be associated with responses and stored permanently in the UK Healthcare CECentral database as are all CE records. A certificate of completion will be provided and the activity will be added to the participants' records of CE activity. Data will be stored for 6 years. If you would not like to have your data included in this study, please indicate "Do not use my data in this study" in the evaluation form at the end of the module.
If you would like to be informed of the results of this study, please indicate by checking the "Send me Feedback" option during the course evaluation. If you have questions or complaints about the study, a contact form will be provided at the end of the session for the purposes of communicating with the Principal Investigator.
Acknowledgement
Funding for this module is provided by the Center for Interprofessional Education, Research, and Practice, the College of Information and Communication Studies, and the Markey Cancer Center at the University of Kentucky.