Registration for this event is currently not available. For more information, please

email support

or call the Special Services number listed below.
Special Services
Please indicate when registering if you require special accommodations to attend this activity.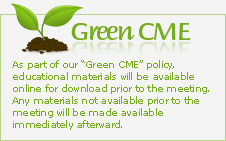 Accreditation Information
CME
This activity has been planned and implemented in accordance with the accreditation requirements and policies of the Accreditation Council for Continuing Medical Education (ACCME) through the joint providership of the University of Kentucky College of Medicine, and Thrombosis Research Institute. The University of Kentucky College of Medicine is accredited by the ACCME to provide continuing medical education for physicians.
The University of Kentucky College of Medicine designates this live activity for a maximum of 2.25
AMA PRA Category 1 Credit(s)
™. Physicians should only claim credit commensurate with the extent of their participation in the activity. The University of Kentucky College of Medicine presents this activity for educational purposes only. Participants are expected to utilize their own expertise and judgment while engaged in the practice of medicine. The content of the presentations is provided solely by presenters who have been selected for presentations because of recognized expertise in their field.
ACGME Competencies
Patient care
Medical knowledge
Other
UK Healthcare CECentral certifies this activity for 2.25 hours of participation.
Needs Statement
Thrombosis is a Major Contributor to the Global Disease Burden
Thrombosis is a common and potentially preventable/treatable pathology which underlies coronary heart disease, ischemic stroke, and VTE.

Commonalities Between Venous and Arterial Thromboembolic Disorders
Although venous and arterial thromboembolic disorders are usually considered as two separate pathophysiological entities, over recent years clinical evidence has challenged this common view showing that unprovoked VTE and arterial thrombosis have shared risk factors and pathologies. Among traditional cardiovascular risk factors, obesity and age have consistently been demonstrated to be independent risk
factors also for VTE and arterial thromboembolism. Visceral adiposity (abdominal obesity), for example, predisposes to inflammatory and hypercoagulable states resulting in a prothrombotic condition that may cause both venous and arterial thrombotic events.

VTE is Associated with Significant Morbidity, Mortality, and Healthcare Costs
Annually, an estimated 1–2 people per 1,000 population are diagnosed with VTE (either deep venous thrombosis [DVT], pulmonary embolism [PE], or both).

In hospitalized patients, VTE is 100 times more frequent than in the general population and an objectively diagnosed (but asymptomatic) DVT may be detected in up to 80% of highrisk surgical and medical patients not on thromboprophylaxis.

Thrombosis and bleeding are among the most common causes of morbidity and mortality in patients with renal or liver disease. The prevalence of fatal PE ranges from 0.01% among low-risk patients to 5.0% among hospitalized patients with multiple risk factors and/or undergoing major orthopedic surgery.

Overall, it is estimated that VTE is the cause of over 100,000 deaths each year in the United States alone and is the most common cause of preventable deaths in hospitalized patients.

VTE is associated with a high risk of recurrence after a first event and, on cessation of anticoagulant therapy, approximately 10% of patients with unprovoked VTE (but persisting risk factor[s]) experience a recurrence within 1 year and up to 30% have a recurrence within 10 years.

In addition, VTE is associated with longterm disabling sequelae such as postthrombotic syndrome (PTS) or chronic thromboembolic pulmonary hypertension (CTEPH). Accordingly, VTE can be considered both an acute and a chronic illness and its management represents a major medical challenge.

Rapidly Changing Guidelines
To keep abreast with the rapidly evolving recommendations on disease detection, diagnosis, treatment, prevention, and risk stratification of patients for antithrombotic therapy, numerous new or revised international guidelines in VTE and AF have been published in last 2 years alone, including:
2016 10th Edition of the Antithrombotic Guidelines (AT 10) from CHEST
2017 ACC Expert Consensus Decision Pathway for Periprocedural Management of Anticoagulation in Patients With Nonvalvular Atrial Fibrillation
2016 ESC Guidelines for the Management of Atrial Fibrillation
2017 AHA/ACC Focused Update of the 2014 AHA/ACC Guideline for the Management of Patients With Valvular Heart Disease
2016 NCCN Clinical Practice Guidelines in Oncology: Cancer-Associated Venous Thromboembolic Disease
2015 ASCO Practice Update: Venous Thromboembolism Prophylaxis and Treatment in Patients with Cancer
2016 ITAC-CME Consensus Recommendations on the Treatment and Prophylaxis of Venous [place on new line]
Thromboembolism in Patients with Cancer 2015 NICE Clinical Guideline [CG92] Venous thromboembolism: Reducing the Risk for Patients in Hospital
2015 ACC/AHA/STS Statement on the Future of Registries and the Performance Measurement Enterprise
The American College of Chest Physicians' (CHEST) antithrombotic guidelines, for example, has serialized its publication of the AT 10.1 guidelines in VTE and includes
numerous new updates such as:
Recommendations on the expanded role for direct (or nonvitamin K antagonist) oral anticoagulants (DOACs [or NOACs])
An important departure from traditional management of subsegmental pulmonary emboli is offered
Recommendations are made for the treatment of low-risk PE (as determined by the PESI score) at home rather than in hospitals
New recommendations are provided for the treatment of cancer-associated thrombosis
New recommendations are provided concerning the role of aspirin for extended VTE prevention
The AT10 guidelines also reinforce the inappropriateness of compression stockings for the sole purpose of preventing PTS
Guidelines for the management of AF are expected to be published by American College of Cardiology/American Heart Association (ACC/AHA) in the third quarter of 2017.

In 2016, the European Society of Cardiology published guidelines, in collaboration with EACTS, on the management of AF which included the following recommendations:
Class 1 recommendations on the preference of DOACs over vitamin K antagonists (VKAs)
Class 2b recommendations on changing from VKAs to DOACs
Class 3 recommendations on the use of aspirin as a thromboprophylaxis in AF
Abandonment of the HASBLED for the assessment of bleeding risk
Reinforcement of the value of CHA2DS2VASc but with differential recommendations according to gender
The Evolving Role of DOACs
Over the last 10 years, randomized controlled trials (and systematic reviews and metaanalyses) have consistently documented the safety and efficacy of DOACs for the treatment and prevention of thrombosis in the setting of VTE and for the prevention of thromboembolic events in patients with AF.

New data have been generated from randomized controlled trials on:
The role of DOACs with regard to the needs of patients on long-term anticoagulation for the prevention of recurrent VTE (EINSTEIN CHOICE)
The role of oral anticoagulants in coronary heart disease (including new evidence from the PIONEER AFPCI and REDUAL PCI studies)

New areas of research with DOACs include mechanical heart valves (GALILEO), heart failure (COMMANDERHF study), coronary or peripheral artery disease (COMPASS), and embolic stroke of unknown source (RE SPECT ESUS, NAVIGATE ESUS). In addition, ongoing studies are addressing patients with AF undergoing percutaneous coronary intervention (PCI), out-of-hospital thromboprophylaxis (MARINER and AVERT studies) in medically ill and cancer patients, and extended VTE treatment.

The Value of Real-World Data
Where there are fewer data from randomized controlled trials, such as more comorbid and older patients, real-world data from prospective registries are seeking to fill the gap.

Prospective registries differ from observational studies, based on clinical databases, which are dependent on the accuracy and completeness of routinely collected clinical data (e.g., cancer records, hospital episode statistics, death records). In contrast, registries are specifically designed to collect patient characteristics and outcomes that may not be available from routine data collection. In registry studies for
this symposium data are collected prospectively, with predefined patient characteristics, statistical analyses plans, and outcome measures.

Such real-world data are helping to better define patients' tailored strategies for anticoagulation according to individual risk of recurrent thromboembolic events and bleeding. Of note, new data are being generated from registries on the management for particular clinical scenarios such as patients with obesity, on dual antiplatelet therapy, or with renal and/or liver dysfunction or cancer.

Observations from real-world studies are also important in recording the implementation of guideline recommendations and their impact on improving the health of patients with thrombotic disease. Real-world studies can also highlight some of the inequalities in care – between countries, within countries, and across a wide range of clinical settings.

The Impact of Thrombosis – Multiple Pathways of Care
Current treatment pathways for most patients with VTE or patients with AF and an increased stroke risk, typically involve initial hospital or communitybased ambulatory care with subsequent follow-up in a secondary care setting. The treatment and prevention of thrombosis impacts on multiple hospital care pathways including perioperative care, intensive care, and antenatal and peripartum care, to name
but a few.

With the introduction of DOACs into routine clinical practice, it is now possible for the initial acute management of patients with DVT as well as the ongoing management of patients with AF (and an increased stroke risk) to be undertaken by primary care. As hospital admissions associated with VTE become shorter, primary care will play an increasingly important role in the long-term management of these
patients, and will require hospital physicians to adopt a shared-care approach with their colleagues in primary care.
Objectives
Upon completion of this education activity, participants will be able to:
Describe burden of thrombosis for patients and populations through its clinical manifestations – ischemic stroke in patients with AF, VTE, and coronary heart disease
Identify patients at risk of VTE or at risk of ischemic stroke in those with AF
Recall the natural history of VTE as an acute but frequently recurrent condition with a potentially fatal outcome and with long-term complications that are very important to patients, such as PTS
Use contemporary prevention and management of VTE and AF in light of recent clinical trials and the latest international guidelines
Prevent and treat thrombosis in specific clinical subpopulations such as patients with cancer
Discuss the burden of anticoagulation and practical use of DOACs for stroke prevention in AF, the treatment and prevention of VTE, and the treatment of coronary heart disease in routine clinical practice, including periprocedural management and management of major hemorrhage
Use observational studies on DOACs in expanding the generalizability of randomized clinical trial data to patient groups excluded from clinical trials such as those with multiple comorbidities including frailty and renal disease
Target Audience
A key challenge in the management of VTE (and indeed other thromboembolic disorders) is that there is no single discipline having overall responsibility for anticoagulant prescribing in many health care settings.

There is a clear need to provide education to a cross-section of health care professionals on thrombosis treatment and prevention so that the latest guidelines are integrated into existing protocols and care pathways.

For this reason, the target audience for this symposium includes all health care providers who have an interest in or are managing patients at risk of thrombosis or who present with VTE.

These include not only hematologists and respiratory physicians but also oncologists, cardiologists, geriatricians, obstetricians, vascular surgeons, radiologists, primary care physicians, nurse specialists, and pharmacists.

It is anticipated that this symposium will attract an international audience (including delegates from South East Asia and Europe) and encourage discussion on the common challenges and solutions to the management of thrombosis across the world.
Faculty Disclosure
All planners, speakers, authors, and reviewers involved with content development for continuing education activities provided by the University of Kentucky are expected to disclose any real or perceived conflict of interest related to the content of the activity. Detailed disclosures will be included in participant materials or given prior to the start of the activity.