Registration for this event is currently not available. For more information, please

email support

or call the Special Services number listed below.
Special Services
The University of Kentucky provides reasonable accommodation or special diet with adequate notice. Please indicate need on the registration form or call our staff at (859) 257-5320 within 1 week prior to the activity date to ensure that adequate arrangements are made.
An Equal Opportunity University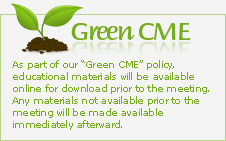 Overview
Clinicians providing primary care encounter a wide range of medical conditions in their day-to-day practice. It can seem overwhelming to stay current on the evaluation and treatment of such a wide variety of conditions. The University Of Kentucky Department Of Family and Community Medicine & Kentucky Children's Hospital Pediatrics serves the needs of primary care professionals across the country by recognizing the need for high quality life-long learning for inter-professional healthcare providers through continuing education. This Family Medicine Review course is one of the longest running courses in the nation and has gained national recognition. Participants can earn AMA Category 1 Credits™ and AAFP prescribed credit in one setting.
The University of Kentucky Department of Pediatrics is now offering our annual Contemporary Pediatrics conference on the final two days of the Family Medicine Review. These two days provide the same pediatric-specific content that pediatricians have come to expect from Contemporary Pediatrics and can be taken as a stand-alone conference. As always, Contemporary Pediatrics will cover a spectrum of general pediatrics and pediatric subspecialty topics that will serve the educational needs of pediatric primary care providers.
The goal of this program is to provide information from a variety of topics covered in Family Medicine & Pediatrics.
Core Topics:
This course is designed to be a Comprehensive Review for Family Physicians and Pediatricians. The course is designed to enhance practice and knowledge by providing evidence based, up to date information that providers can immediately take and apply and change their current practice. Potential content areas below are based on the ABFM Blueprint for the examination and on needs of primary care, pediatricians and pediatric subspecialties:
Cardiovascular: Acute Coronary Syndrome, Heart Failure, Common Arrhythmias, Dyslipidemia, Peripheral Vascular Diseases, and Disease Prevention
Respiratory: Chronic Obstructive Lung Disease, Asthma, Community Acquired Pneumonia, Sleep Medicine
Musculoskeletal: Sports Medicine, Low Back Pain, Common Musculoskeletal Injuries, and Pediatric Orthopedics
Endocrine: Diabetes Mellitus, Thyroid Disorders, Osteoporosis, Obesity Management, Hypogonadism
Gastrointestinal: Gastroesophageal Reflux Disease, Dyspepsia and Peptic Ulcers, Helicobacter, Gastrointestinal Cancers, Liver Disease and Cirrhosis, Inflammatory Bowel Disease, Colon Polyps, Diverticulitis
Psychiatry: Depression, Bipolar, ADHD, Substance Abuse
Integumentary: Common rashes, benign and cancerous skin growths
Women's Health: Contraception, Infertility, Menopause, Maternity Care Hematologic/Immune: Anemia, HIV/AIDS, Allergy
Nephrology: Chronic Kidney Disease, Urinalysis
Neurology: TIAs and Stroke, Epilepsy, Headaches, Dementia
Ophthalmology: Eye Trauma, Vision Loss
Adolescent Medicine: Growth and Development, Substance Abuse
Geriatrics: Urinary Incontinence, Polypharmacy
Others: Pain Management, Antibiotic Choices, Sexually Transmitted Infections, Cancer Detection and Prevention
Pediatrics: Well child care, immunizations, pediatric cardiology, pediatric dermatology, pediatric pulmonology, pediatric immunology, pediatric infectious diseases, pediatric gastroenterology/nutrition, pediatric endocrinology, developmental pediatrics, child abuse/forensic pediatrics
Special Workshops and Breakout Sessions will also be offered to include exposures to unique skills, areas of interest, or specific ABFM module preparation.
Accreditation
CME Credit
The University of Kentucky College of Medicine is accredited by the Accreditation Council for Continuing Medical Education (ACCME) to provide continuing medical education for physicians.
The University of Kentucky College of Medicine designates this live activity for a maximum of 50 AMA PRA Category 1 Credits™. Physicians should only claim credit commensurate with the extent of their participation in the activity.
The University of Kentucky College of Medicine presents this activity for educational purposes only. Participants are expected to utilize their own expertise and judgment while engaged in the practice of medicine. The content of the presentations is provided solely by presenters who have been selected for presentations because of recognized expertise in their field.
ACGME Competencies: Patient Care, Medical Knowledge, Practice-based Learning and Improvement, Interprofessional and communication skills
AAFP Credit
This Live activity, 48th Annual Family Medicine Review/Contemporary Pediatrics, from 11/06/2016 - 05/19/2017, has been reviewed and is acceptable for up to 47.00 Prescribed credit(s) by the American Academy of Family Physicians. Physicians should claim only the credit commensurate with the extent of their participation in the activity.